An employee-owned infrastructure firm and member of ESCA's Board of Directors, HNTB Corporation, has once again gained recognition, this time from the Los Angeles Business Council, earning a Design Concept Award at the 43rd Annual Los Angeles Architectural Awards.
The award honors the firm's commitment to environmental sustainability and community impact through their design of the Sixth Street Viaduct Replacement Project for the City of Los Angeles. The Sixth Street Viaduct was built over 80 years ago and connects downtown L.A. with the city's Boyle Heights neighborhood. The structure of the viaduct is deteriorating due to a chemical reaction, making an urgent replacement necessary for the safety of L.A. commuters and residents. HNTB proposed a design with safety, aesthetics and the community in mind.
its landmark design of the Colorado Street Bridge in Pasadena. As an employee-owned company, they have expanded their reach across the country, particularly in California, where, in addition to the Sixth Street Viaduct, HNTB has worked on the I-405 Sepulveda Pass Widening, University of Southern California Galen Center and the new Tom Bradley Terminal at Los Angeles International Airport.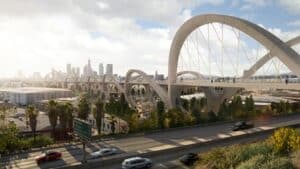 HNTB is recognized as an industry leader in the planning, design, and construction of complex, long-span and movable bridges. Further, HTNB is ranked as one of the top 100 majority employee-owned companies in the U.S. by the National Center for Employee Ownership and has been employee-owned since 1999.
This project is an example of the high level of performance that the 3,500 employee-owners at HNTB are committed to. They recognize that the hard work they put into the company will reap rewards both for themselves and the company as a whole. In addition, HNTB's employee-owners understand that revenue generated through collective achievements provides critical retirement savings through their ESOP (Employee Stock Ownership Plan).
Congratulations to HNTB and its employee-owners on their award!